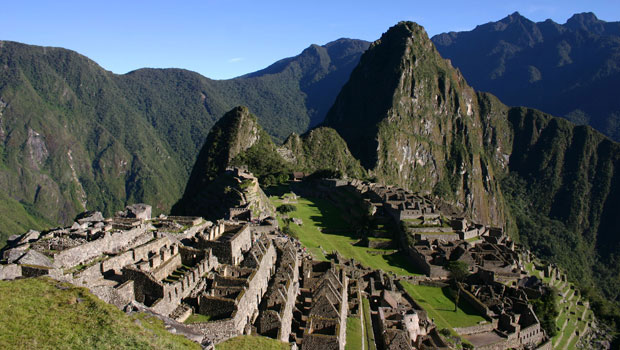 Update: Cusco regional governor pushes for mid-March reopening of Machu Picchu; rail repairs still on track for April 1 completion
Click here to read update on reopening of train service to Machu Picchu
For anyone wondering if they should go ahead and book their Peru vacation after torrential rains washed out rail service to Machu Picchu in late-January,  we don't want to sound overly optimistic about visiting Peru's premiere archaeological marvel before April 1. But overall, the news appears positive:
Ferrocarril Trasandino (Fetransa), announced Tuesday that tourist access to Machu Picchu by train could be restored ahead of the scheduled April 1 completion date for repairs to a key stretch of the rail line.  Then Cusco's regional governor said Friday he plans to push for Peru's top tourist destination to be reopen to the public by March 15.
Fetransa was quoted by state-run news agency Andina saying that just 10 kilometers of rail still needed to be repaired to restore the rail line between  Aguas Calientes and Piscacucho.
"As soon as that stretch is finished, tourists will be able to get to the town of Machu Picchu by train using the bimodal service (from Cusco or Ollantaytambo to Piscacucho by bus and from there to Aguas Calientes by train)," Andina reported.
However,   the regional governor's statement prompted Fetransa to clarify on Friday that it was on target for the April 1 completion date to avoid overly optimistic expectations that the Piscacucho-Aguas Calientes rail work could be finished a full two weeks early.
Reaching Machu Picchu viat that route would entail traveling from Cusco by road through the Sacred Valley to Ollantaytambo and then continuing on to Piscacucho, where passengers would then take a 10-minute walk  to board the train. From there, it is an 80- to  90-minute ride to Aguas Calientes.  The train stop at Piscacucho is also where the  Km 82 entrance to the Inca Trail is located.
The Vilcanota River overran its banks in late January following torrential rains, destroying large portions of the track and leaving more than 1,000 visitors stranded at Machu Picchu until they were evacuated by helicopter. It was the worst flooding seen during the November-March rainy season that people had seen in Cusco in decades.
Cusco Regional Gov. Hugo Gonzales Sayán  told reporters on Friday that he planned to push for a March 15 reopening date for Machu Picchu, which was ordered closed to the public by the National Institute of Culture.  He said he hoped to finalize the early reopening this coming week when he meets with the Machu Picchu Management Unit.
Gonzales met Friday with authorities from Aguas Calientes, which lies in the valley below Machu Picchu, and Santa Teresa, the next closest town northwest of the archaeological complex, after 500 residents whose livelihoods depend on tourism marched to the provincial capital of Cusco demanding rapid repair of roads and rail lines to the ancient Inca citadel.  The demonstrators  contended that the central government's Ministry of Transportation has failed to provide timely equipment and manpower to make the route — which has often been described as a "backpacker's backdoor" to Machu Picchu — into a main access point for more tourists.
Gonzales pledged to dispatch heavy machinery from the regional government to Santa Teresa to finish up repairs to the road and foot bridge, which were damaged by the flooding, Cusco daily El Sol reported Saturday.
The Cusco-Ollantaytambo- Santa Teresa route is an alternate path to Machu Picchu by road to the Hydro-Electric Plant train station northwest of Machu Picchu. From there, it is a short 25-minute train ride and a 20-minute bus up a switchback road  to the archaeological complex.  This route takes approximately  8½-hour from Cusco and traverses some bumpy stretches of road.
Direct rail service from Cusco/Poroy to Ollantaytambo and  Machu Picchu, which includes the luxury Hiram Bingham class train, is not expected to be complete before June.
[Editor's note: The story has been updated from its original form to better explain the route to Machu Picchu via Piscacucho and the local politics of the repair efforts.]