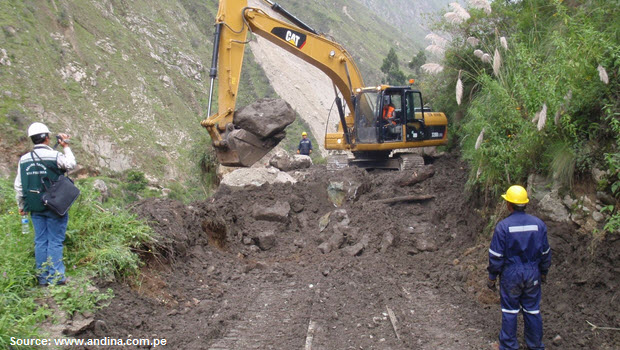 Partial train service to Machu Picchu to be back on track March 29
Train access to Machu Picchu that was cut off in late-January following torrential rain and landslides will be restored March 29 — three days ahead of schedule, the chief of railway concessionaire Ferrocarril Trasandino (Fetransa) said Thursday.
Fetransa General Manager Rómulo Guidin told state-run news agency Andina that travelers would be able to reach the 15th century mountain ruins, from the train stop at Piscacucho,  where the  Km 82 entrance to the Inca Trail is also located.
Getting to Machu Picchu via that route would entail traveling from Cusco by road through the Sacred Valley to Ollantaytambo and then continuing on to Piscacucho, where passengers would then take a 10-minute walk  to board the train. From there, it is an 80- to  90-minute ride to Aguas Calientes.
Guidino cautioned that achieving the rail repairs on the accelerated schedule is still subject to the weather. Extreme rain has caused the worst flooding seen during the November-March rainy season that people in Cusco have experienced in decades.  Thousands of homes were destroyed and several rural communities suffered wholesale damage.
"There shouldn't be problems if the rains are normal and do not constitute an event like they did in January, which had not happened in 90 years," Guidino said.
Peru's National Meteorological Service Senamhi warned this week that Cusco should remain on maximum alert because of heavy rain that is forecast to continue through this week, threatening to once again swell the Vilcanota River. Tributaries of the river overran their banks this week, destroying dozens of homes in the rural towns of Taray  and San Sebastian, and leaving more than a dozen people dead. The rain also sparked a landslide that cut off the main road between Cusco and Pisaq, and is going to take several days to clear.
The Vilcanota turned into a raging torrent the last week of January, destroying several kilometers of the railroad track between Piscacucho and Aguas Calientes, and decimating the rail line between the provincial capital city of Cusco and the town of Ollantaytambo.  More than 1,000 visitors were stranded and had to be  evacuated by helicopter.
Machu Picchu was not damaged by the rain, but Peru's central government ordered the citadel closed until April 1 to provide adequate repair time and to ensure tourists would not get hurt trying to reach it over damaged or unsafe routes.
However, under intense pressure from local communities that rely on tourism revenue, Cusco's regional government has pushed hard for Machu Picchu to reopen March 15, a full two weeks ahead of schedule.
Cusco Regional Gov. Hugo Gonzales Sayán announced last week that he would obtain formal permission for the early opening when he met with the National Institute of Culture (INC) and theNatural Resources and Environment Service (Sernanp).
Cusco's regional director of economic development, Jean Paúl Benavente, was quoted Wednesday in  daily newspaper Diario del Cusco,  also describing the early opening as a done deal for  travelers hiking the classic four-day Inca Trail.
Benavente said an early opening would be used as well to promote the lesser known route to Machu Picchu via Santa Teresa, popularly known as the backpacker's "back door"  to the ancient Inca citadel.
Theoretically, hikers could trek the Inca trail to Machu Picchu, then return to Cusco by car or bus from Santa Teresa, avoiding Aguas Calientes and the train line altogether.
But the INC and Sernanp quickly rejected the March 15 reopening date as premature. The agencies also said Thursday that creating a formal Inca Trail-Machu Picchu route that ends with hikers returning to Cusco via Santa Teresa, bypassing Aguas Calientes, is still being evaluated.
The "back door" route, traditionally geared toward die-hard travelers, entails a journey by bus or car from Cusco to Ollantaytambo, and then to Santa Teresa, crossing the Carrilluchayac bridge to reach the  Hydro-Electric Plant train station. From there it is a two- to three-hour trek along the the tracks to Puente Ruinas,  where the  switchback access road up to Machu Picchu begins.
Train service from the Hydro-Electric plant to Aguas Calientes has yet to be re-established, but would cut that final leg of the trip to 25 minutes, making the entire journey possible in just under 9 hours.
Benavente said the Cusco Regional Government will construct "a small station" at the Piscacucho train stop to make it easier for passengers to board the train when train companies PeruRail and Inca Rail resume partial operations.
Full rail service from Cusco/Poroy to Aguas Calientes, including luxury class trains, is not expected to be restored until June.