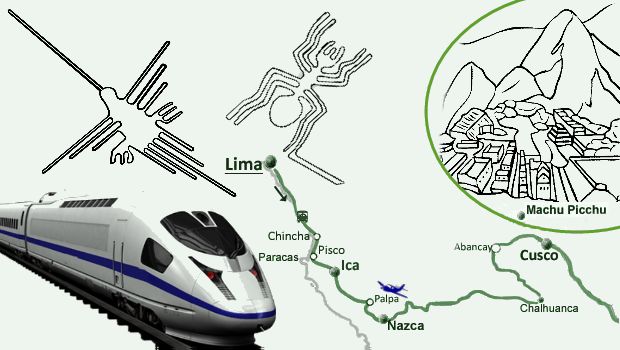 Train and Plane Plans to Connect Nazca Lines, Cusco and Lima
A proposed high speed train and possible direct flights from Cusco could make the enigmatic Nazca Lines a much more convenient and attractive add-on to your Peru vacation.
As it stands, those mysterious giant geoglyphs etched into the desert plateau more than 275 miles south of Lima require nearly seven hours to reach by bus or car.
If you want to continue to Cusco and Machu Picchu, you either have to return to the capital to catch a flight, or continue on for another couple of days over Andean mountain roads.
Meanwhile, a "full-day" tour from Lima to fly over the Nazca Lines is truly a FULL day. The tour requires hitting the road well before dawn and driving seven hours to board a flight on a small Cessna for a flyover that typically lasts 30 minutes.
The vast majority of travelers who make the trip say afterwards that it was well-worth it. But getting there could get a lot easier.
Peru's Minister of Transport and Communications, Jose Gallardo, announced last week plans to build a high-speed railway to connect the southern districts of Lima with the cities of Ica and Pisco, where several Nasca Lines tourist flights take off daily.
Gallardo said that with a speed of 112 mph from Lurin to Pisco, the route would offer people a convenient and economic alternative to the highway, or even flying.
Meanwhile, the airport in Pisco has been undergoing $50 million renovations that is scheduled for completion this month. Avendaño Evans, CEO of the concessionaire Aeropuertos del Peru, told InfoTur Peru in June that he is pushing for direct flights between Pisco and Cusco.
"In reality what we are encouraging is to unite two tourist destinations that today are separated, that have not been integrated," he said. "What we want is to start to promote and sell package tours that integrate two of the main tourist destinations in Peru, which are the Nasca Lines and Cusco."