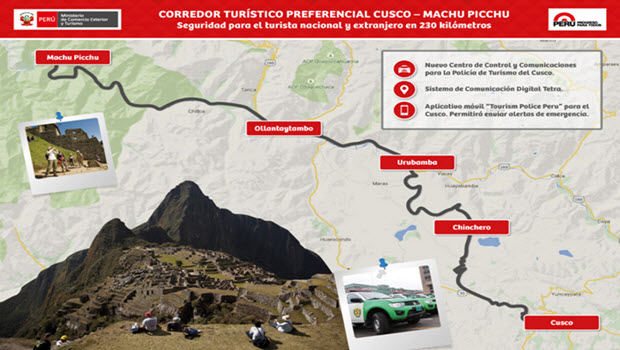 Improved tourism security for Cusco, Sacred Valley and Machu Picchu
Peru's tourism ministry this week launched a new program with the tourism police to offer increased protection to travelers in Cusco, Machu Picchu and all of the other major tourist attractions in between.
Tourism police on foot and in new 4×4 vehicles, each equipped with state-of-the-art GPS communications, will patrol and monitor the so-called "Preferred Tourism Corredor," said Tourism Minister Magali Silva.
A new 24-hour emergency alert system will cover the tourist route that stretches 143 miles from Cusco, Pisaq, Chinchero, Urubamba and Ollantaytambo to Machu Picchu, she said.
Travelers arriving to Cusco's Velasco Astete Airport will see signs with a QR code to download an App for  smart-phones, tablets and Androids called "Tourism Police Peru." It can be used to immediately contact the tourism police in case of any emergency. Travelers can also call this toll free number: 0800 22221.
"In the first half of the year, the citadel of Machu Picchu has received about 570,000 tourists, domestic (24%) and foreign (76%), representing an increase of 13.7 percent compared to the same period in 2014," said Silva.
Increasingly, families in Cusco's countryside make their living from tourism and have greatly improved their standard of living providing tourist services. "It is incumbent on us, as the State," Silva said, "to create conditions and an atmosphere of security so that the flow of tourists doesn't stop."