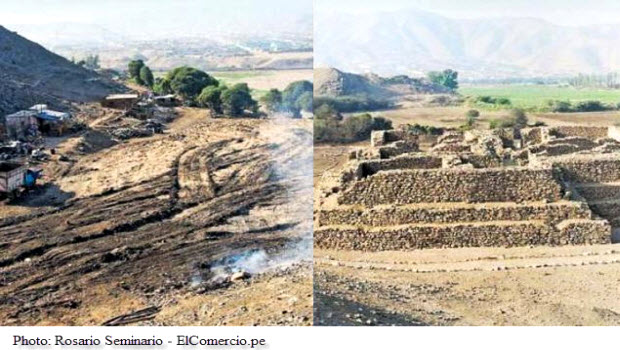 El Paraiso: The boom and bust of Peru's cultural patrimony
Five months ago Peru's Ministry of Culture announced a major archaeological discovery: an underground temple on the outskirts of Lima that could be 5,000 years old, making it one of the oldest in the Americas.
The excavated temple was next to the ground-level stone pyramid known as Unit 1, the central structure in the El Paraiso archaeological complex, located in Lima's San Martin de Porres district.
El Paraiso was back in the headlines this week. That's because on Saturday, a fly-by-night real estate development company sneaked into the 60-hectare archaeological complex with a backhoe and tore down one of the site's ancient stone structures.
Lead archaeologist at the site, Marco Guillén, told newspaper El Comercio that after razing the pyramid, the trespassing construction workers threw garbage on the rubble and set it ablaze.
"They were trying to destroy three more pyramids, but the security guards called the police and they escaped,"  Guillén was quoted saying.
The Ministry of Culture and municipality have filed criminal charges against the real estate developers, identified as Compañía y Promotora Provelanz E.I.R.L. and Alisol S.A.C.  The company owners face stiff fines and up to eight years in prison, if convicted.
It is unclear why the real estate developers committed such a stupid crime, or thought they could get away with it. The El Paraiso complex was declared Cultural Patrimony in March 2002.
In recent years, there have been efforts to raise awareness to preserve Lima's remaining pre-Columbian monumental structures.
But it's an uphill battle, following centuries of the wanton destruction. Up to 70 percent of Lima's huacas – ancient temples, forts, cemeteries, administrative centers and their contents – have been flattened, burned and buried.
Some of the worst devastation occurred during the 20th century.
Major burial mounds were knocked down and plowed under to make way for the city zoo, university campuses, and several hospitals. Construction of private estates and major avenues cut directly through dozens of massive pre-colonial ruins. In recent decades, impoverished Andean migrant squatters, seeking a better life in the coastal capital, doused any mummies they found with gasoline and set them ablaze, rather than risk being forced from their makeshift homesteads, built on property declared Intangible Cultural Patrimony.
The economic incentive to knock down a temple ruins, perhaps inconveniently placed adjacent to a building project, are  more powerful today than ever, now that Peru's economy is riding high on a wave of real estate development.
Hopefully, those responsible for the crime that took place this past weekend at El Paraiso will be prosecuted to the fullest extent of the law, and not walk away with a slap on the wrist.
If you like this post, please remember to share on Facebook, Twitter or Google+