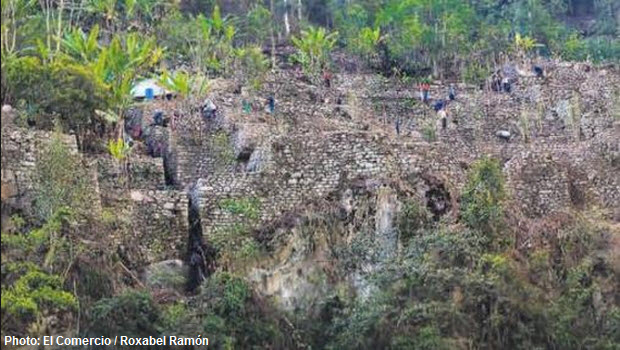 The Caretakers of Machu Picchu
Anthropologist Fernando Astete and his staff often receive well-deserved accolades for their work running the day-to-day operations of Machu Picchu, as well as overseeing the protection and preservation of the Inca citadel.
But readers of El Comercio on Friday got to see just how seriously eight mountaineering members of Astete's crew take their jobs. They put their lives on the line — literally — to prevent vegetation from growing in-between the sheer retaining walls.
Machu Picchu is under constant pressure from the encroaching jungle, which if left unabated, would deteriorate the masterful stonework, much of which has been restored since the 1970s.
Astete's park staff have also been working the past three years, clearing the Andenes Orientales (Eastern Terraces) of Machu Picchu. Last October, El Comercio ran a story about that project, which also includes the clearing and restoration of the Inca site of Inkaraqay. That site is located on the virtually inaccessible and nearly vertical side of the Huayna Picchu, the peak that looms over Machu Picchu.
The plan is to eventually integrate both Inkaraqay and the Andenes Orientales into the Machu Picchu Archaelogical Park and make them accessible to visitors.
These new areas being opened on the lower flank of Machu Picchu, under Huayna Picchu, demonstrate what archaeologist and historians long suspected.
"Machu Picchu was much larger than what we can see today," archaeologist Guillermo Cock told Peruvian Travel Trends. "Those areas are being cleaned and people are going to have access there."
To hear a podcast of the full interview with Guillermo Cock, talking about the new areas opening up at Machu Picchu and the upcoming 100th anniversary of Hiram Bingham's "discovery" of the citadel in 1911, visit us on our Facebook page:
www.facebook.com/PeruVacations