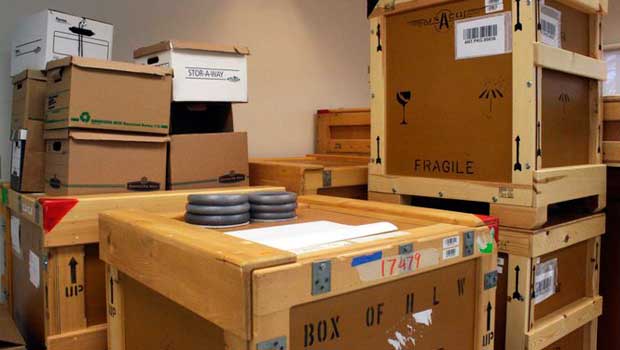 Bickering over Machu Picchu centennial celebration could cause delay of event
The Yale Daily News is reporting that crates marked "fragile" are already filled with artifacts excavated from Machu Picchu and  stacked in a corner room in a building on Yale University's West Campus, ready to go.
With the first shipment slated for next month, at least a portion of Peru's most prized cultural treasure will be repatriated to the Inca capital of Cuzco before July 24, the 100th anniversary of Hiram Bingham's 1911 "discovery" of Machu Picchu.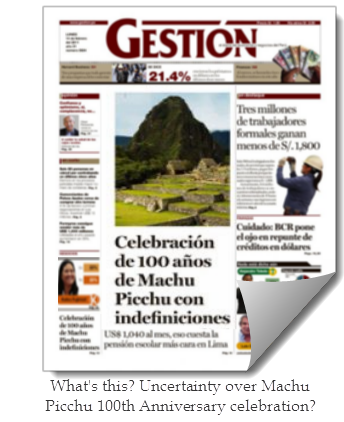 But will Peru be ready to host the commemorative anniversary bash at the mystic site, planned for July 7?
Peru's leading business daily Gestión reports that Peru's National Chamber of Tourism (Canatur) is threatening to postpone the celebration, accusing President Alan García's government of dragging its feet on vital preparations.
"The government asked us to share an agenda to make this commemorative event happen next July 7," said Canatur's president, Carlos Canales.
The private sector has done its part, with its plans set since last September, he said. But Canales contends that government delays have made it impossible to advance and coordinate with the 250 invited correspondents from NBC, BBC, National Geographic, and the New York Times, among others.
The same problem exists for celebrities that Peru is hoping to entice into participating in the event, which will not be open to the general public.
"The singers aren't going to wait either, and the risk is that neither Sting, nor Bono, nor Paul McCartney will accept and go to Machu Picchu," he said.
Sting reportedly told TV station Frequencia Latina (channel 2) that negotiations for him to perform at Machu Picchu have occurred, "but there's nothing confirmed."
Canales hinted that a dispute might be brewing over who the headliner should be, inadvertently dissing two of Latin music's biggest singing stars.
Peru's Ministry of Tourism "is consulting with President Alan García if they want Sting or another singer," Canales said. "Instead of Juanes or Shakira, we want a global singer with a world following and this implies a lot of important coordination."
As noted in the Yale Daily News story — the first of a three-part series offering an inside look at how Yale arrived at the decision to return the artifacts — García's administration pushed hard for the return of the Machu Picchu relics before July 7. That's the anniversary of the day Machu Picchu was named on of the Seven Wonders of the Modern World.
But perhaps more importantly, the deal to bring the objects back to Peru was achieved before July 28, when García's six-year term of office ends.
Canatur's members are footing most of the $3.6 million bill for the event and Canales said if the government continues to cause delays ahead of the 100-year celebration, they will unilaterally postpone until Sept. 27: World Tourism Day.
Then the event can be coordinated with Peru's newly elected head of state.