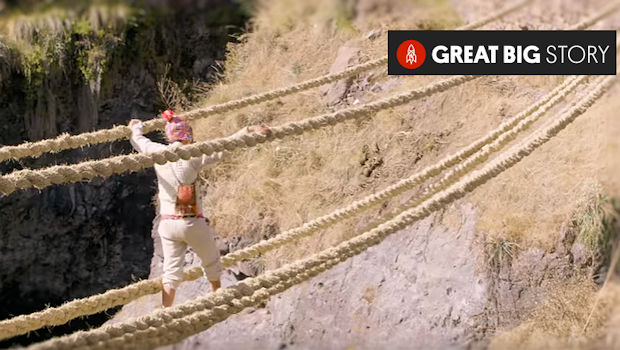 Peru's last Inca Rope Bridge Gets CNN's Attention
Q'eswachaka, Peru's last handwoven rope bridge from Inca times, is getting a lot of well-deserved attention.
Following a big write-up in the Wall Street Journal, the bridge and the Andean communities that rebuild it each June as part of a traditional multi-day festival are now the subject of a documentary produced by CNN's Great Big Story.
The documentary was produced in conjunction with Peru's culture and tourism board, PromPerú.
"This co-production will let us show what makes Peru unique, by tapping into large audiences connected to Peruvian-like experiences and products," said Isabella Falco, PromPerú's director of communications.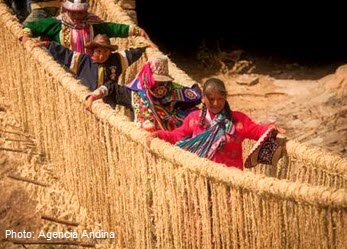 In 2013, UNESCO added the Q'eswachaka bridge to its list of intangible cultural heritage sites. A replica was exhibited in 2015 on the National Mall in Washington, D.C.
Despite that recognition, very few travelers make the four-hour journey from Cusco to attend the Q'eswachaka festival, which is held the second week of June every year.
Fertur Perú Travel is organizing a luxury camping trip for the Q'eswachaka bridge festival in June 2018, including a private chef and expert guide. If you are interested in joining this small group, let us know by writing to receptivoperu @ fertur-travel.com.
"The bridge, called Q'eswachaka, is the last of its kind, a throwback to a pre-colonial period when spans like this made transportation and trade possible in one of the world's most rugged terrains. The bridges furthered the expansion of the Inca Empire by allowing armies to cross canyons and fast-moving rivers. Early Spanish conquistadors were so spooked by the structures that they crawled over them on their hands and knees. The Incas, at their peak, are believed to have built about 200 overpasses, connecting a 20,000-mile-long road network." — Wall Street Journal, June 20, 2017