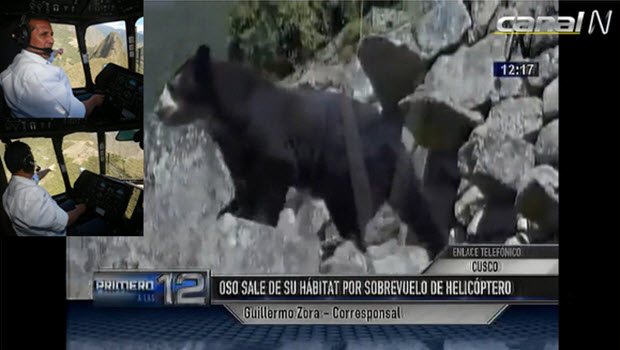 Cusco official wants helicopter pilot who invaded Machu Picchu air space sanctioned
This young spectacled bear was spooked earlier this week by the din of an army helicopter, possibly piloted by President Ollanta Humala himself. So he made a dash through Machu Picchu, crossing paths with tourists.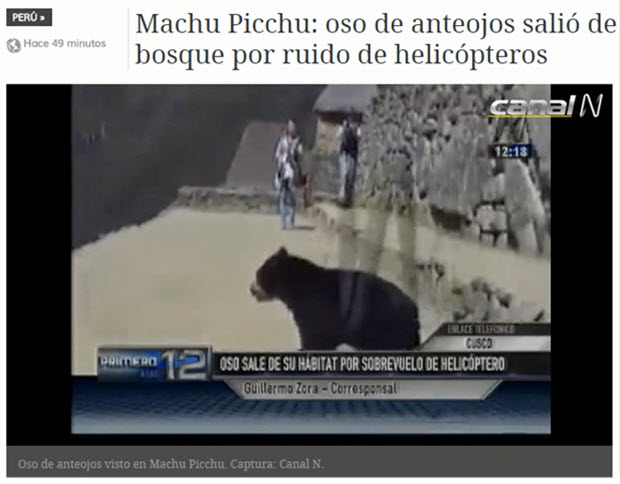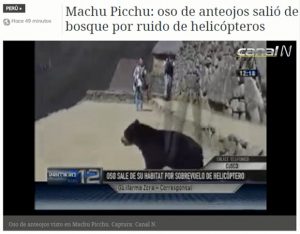 Cable news station Canal N broadcast a video Friday of the bear's rare daylight incursion into Peru's premier tourist attraction. The little guy was reportedly caught by park guards and returned to his mother in the cloud forest.
Daniel Maraví Vega, director of Cusco's regional Culture Directorate, says he wants to sanction whoever was at the controls of the aircraft that violated the strict Machu Picchu no-fly zone.
There were two helicopters, he told Canal N, and the one that did two long, low circles around Machu Picchu on Tuesday afternoon had a Peruvian Army insignia on its fuselage.
"This for us is very disturbing because not only can the noise vibrations weaken some structures we have in the sanctuary," he said, "the noise impact also caused harm to our fauna. The evidence we have of that are videos taken by visitors of a bear cub, approximately two years of age, that was frightened and wandered into the sanctuary putting it and those same visitors at risk."
Spectacled bears, also known as Andean bears, are the only species of bear in South America, and are classified as endangered. "Spectacled bears are generally diurnal, shy, peaceful and elusive, avoiding contact with humans," according to WWF.
All aircraft, manned or unmanned, with or without motors, are strictly prohibited within a one-kilometer radius of Machu Picchu, Maraví Vega said. "We have sent a letter to the general of the army to inform us who was the responsible party who made the decision to violate the regulations that protect our sanctuary."
Government Palace staff published photos of Humala, a former army lieutenant colonel and accomplished airman, piloting a helicopter while pointing out toward Machu Picchu in the distance. They also published closeup shots of the iconic ruins. Maraví Vega said it is still unknown whether Humala made an incursion into the no-fly zone.