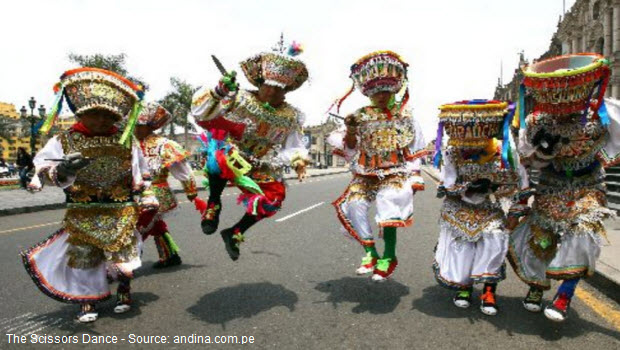 Tijeras – The Scissors Dance
This acrobatic dance is performed in the southern and central highlands of Peru in Ayacucho, Apurimac and especially in Huancavelica. It's also performed at peñas, or dance halls like Las Brisas de Titicaca in Lima.
Two male dancers face off to outdo each other in performing a series of leaps, flips, flops and spins, all while ignoring your grandma's rule about never running with scissors. Musicians accompany the combatants with driving melodies on the violin and harp.
Several anthropologists link the Scissor Dance with the Taki Onqoy, an Andean religious movement that appeared in 1564 in the Chanka area (Ayacucho, Huancavelica and Abancay) in rebellion against Spanish colonial rule. The Taki Onqoy movement advocated for a total rejection of the violent imposition of Catholic faith and the extirpation of native spiritual beliefs.
According to Spanish chronicles, the Huacas — pre-Hispanic deities — would "possess" the bodies of indigenous highlanders, enabling them to writhe in the feverish dance for hours or days, signaling a prophesy and prompting the return of the Old Gods to defeat of the Spanish's Christian God. But the goal to expel the Spanish invaders never materialized. The Spanish Inquisition took up the task of exterminating the rebellion, which completely disappeared by 1572.
A short video put together by our friends at El Sol Language School shows the dancing contortionists at work:
For more information on tours to the Peruvian highlands, Browse our Web site.