Below  are just a few examples of our vacation packages and travel services.
☼ Choquequirao Trek & Machu Picchu 2014 ☼
Join us on a magical journey on horseback and foot along less traveled Inca trails to Machu Picchu's Sacred Sister, the Inca Royal Estate of Choquequirao.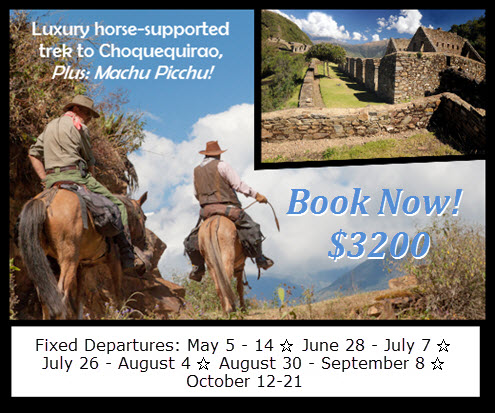 This program is a unique adventure trek experience with pack mules, saddle horses, comfortable camps and Inca specialist guides. The focus is on Inca study and archaeological investigations as we travel.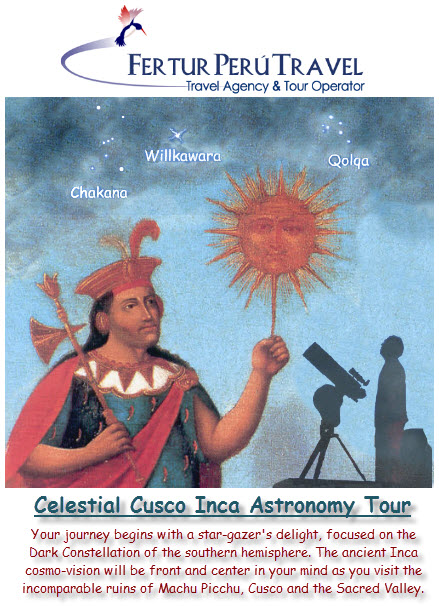 During your first evening in the two-mile-high Inca capital, you'll participate in an intimate gathering at the Planetarium Cusco: Interpretation Center for Inka Astronomy and Southern Skies for a fascinating night of Inca astronomy, history, mythology, architecture and — weather permitting — amazing star gazing.
You learn how Inca priest-astronomers read the sky, observing star clusters related with celestial deities. The Southern Cross, the Pleiades, the Hyades, Orion's Belt, etc., were viewed in alignment with natural and man-made markers on the horizon that radiated out from Cusco, the "navel of the universe."
The celestial bodies were key to synchronizing calendars to determine planting and harvest dates that successfully fed an estimated 12 million subjects during the height of an empire that spanned more than 3,000 miles (5,000 km) down the length of the Andes.
This is a great family vacation!
Listen to our podcast about the Planetarium Cusco.
If you like this post, please remember to share on Facebook, Twitter or Google+