Manos Unidas – The Camino Nuevo School of Cusco
Preparing children with disabilities in Cusco for a successful future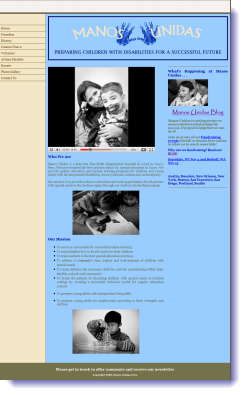 Our friend Celeste Marion, a Seattle, Washington native, and Mercedes Delgado Chavez, from Cusco, decided in 2004 to tackle a seemingly insurmountable problem: the cultural stigma in Peru against children with disabilities.
Manos Unidas is their non-profit organization, providing quality education, teacher training and parent advocacy in Cusco. Their education center, Camino Nuevo, or "New Path," opened March 3, 2009.
Camino Nuevo is the first private educational facility recognized by the Peruvian Ministry of Education with R.D. 2591 that serves children and young adults with special needs in Cusco.
Manos Unidas offers short- and long-term volunteer programs for professional educators from abroad. Click here for more information.

Consider sponsoring a scholarship for a student at Camino Nuevo: $700 full scholarship, $350 partial scholarship, $175 financial assistance. Will you Donate in the name of a friend or loved one?
The center's intimate environment offers quality individualized learning and a place where teachers can collaborate and receive extensive training and experience in special education.
Caminos Nuevo serves approximately 50 children between the ages of 3 and 24. Each child receives an individual assessment of language and communication skills, social and play skills, motor skills, reading, writing and math skills upon entry to the school. The average student-to-teach is five to one.
Before Camino Nuevo, educational options for children with special needs in Cusco were minimal. The one primary school for special education has between 15 and 20 students per classroom, regardless of their level of disability. The children in this school system would often end up segregated from society, with no opportunity to socialize, study or work along side typically developing peers.
In Peru a cultural stigma exists against people with disabilities. Parents of children with special needs often experience shame, pity, anger and embarrassment. Many children are locked indoors, and some never see the light of day. Other children are victims of physical and sexual abuse. In the most extreme situations, these children are left in dumpsters, on the doorsteps of orphanages, or found living with animals.
In a nation, were 44.5% of the population live below the poverty line, parents give priority to healthy children, the ones who will be able to contribute economically to the family.
The work of Manos Unidas begins with parents, persuading a mother that her child is a blessing, not a curse. Its Camino Nuevo school operates on a sliding scale tuition system in order to reach some of the most desperate cases of parents, who otherwise would not be able to afford to educate their children.
Manos Unidas operates with the philosophy that the most important requirement is for parents to participate in their child's education. They believe work first begins with families, helping them realize their children can be equipped with the tools necessary to lead a successful life.
They go into the homes of these families, run workshops, and provide support for the parents.
Before Manos Unidas, there were no training programs in Cusco for Special Needs Teachers and regular ed teachers were not taught how to identify and deal with students with special needs.
Celeste and Mercedes have developed systems to intensively train teachers who have never worked with special needs kids. They are determined to bring cutting edge research and specialists from around the world to support educational development in Peru.