Ica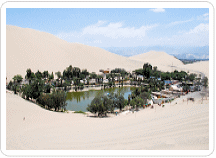 Ica, a coastal region of extreme contrasts: immense desert sand dunes, fertile valleys, exotically twisted and intertwined Huarango trees.
Ica is also the name of the provincial capital: A name synonymous with grape Pisco brandy, the ocean and adventure travel activities.
A recommended destination from which to visit the Nazca Lines, the Paracas National Reserve and the desert oasis of Huacachina.
A destination to enjoy traditional Vendimia wine festival during the grape harvest every March.
Also, the festivals of Señor de Luren and of the Virgin del Carmen of Chincha.