A mystic 3-day journey to Bolivia's Island of the Sun, La Paz and Tiwanaku,
from $682...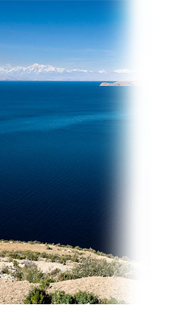 Hotel Presidente

Single Room: $757 per person
Double Room: $682 per person
Hotel Radison Plaza

Single Room: $780 per person
Double Room: $680 per person
Casa Grande

Single Room: $1,017 per person
Double Room: $808 per person
Day 1: Puno / Copacabana / Isla Del Sol / Inti Wata / Chua / La Paz
We start with a very early land transfer to Copacabana, where we board the catamaran to cruise to the mythological birthplace of the Inca Empire.
Breakfast is served while plying the waters of Lake Titicaca to the Island of the Sun. According to legend, it was here that the Inca creator god Viracocha, spawned his children - Manco Kapac and Mama Ocllo - and sent them forth from the lake with a golden rod to found Cusco and the Inca Dynasty.
We visit the Pilcocaina Sun Temple and visit the Sacred Fountain and Inca Steps, before arriving at the Inti Wata Cultural Complex. Here, we visit the Ekako Underground Museum. It is a unique 200m² subterranean exhibit center of Sun Island's abundant archaeological relics and Andean mummies.
We also visit the traditional Titikaka Reed Shipbuilders display center, where explorers Thor Heyerdahl and Kitin Muñoz built reed vessels to test their early migration theories.
The Inti Wata Complex offers a unique sailing experience aboard a huge traditional Titikaka totora reed vessel to enjoy a panoramic view of the Pilkakaina Inca Palace. You will also have the chance to participate in an ancient Kallawaya ceremony at the Apus and Achachilas Altar, dating back to the Tiwanaku era, to learn about traditional medicines and shop at the artisan handicraft market. Catamaran Cruise Ship to Chúa harbor, with a buffet lunch served aboard, then overland transfer to your hotel in La Paz. (B/L)
Day 2: Tiwanaku / La Paz City Tour
We start our excursion with a tour of Tiwanaku, located on the Bolivian high altiplano by Lake Titicaca, about 75 kilometers (47 miles) from the city of La Paz. The Tiwanaku civilization emerged from the coalescing of previous cultures and dominated the region from 350 AD until its decline around 1200 AD. In this eerie, remote setting, you'll walk the urban center buildings of the semi-Subterranean Temple of the Earth, the sun Temple of Kalasasaya with the Ponce Monolith, the Akapana pyramid, and the iconic Gateway of the Sun. You will also visit the on-site museum, exhibiting ancient objects and artifacts.
In the afternoon we take a city tour around La Paz, visiting the Colonial Church, San Francisco and Plaza Murillo where we see the Cathedral, the Government Palace, and the buildings of the National Congress, the famous colonial thoroughfare Calle Jaén with its profusion of museums, and visit the residential districts of Obrajes, Calacoto and La Florida. We end the tour with a visit to the Valley of the Moon, where you can visit a ceramic workshop with a demonstration of the potter's art. (B)
Day 3: La Paz - Farewell
Breakfast in your hotel. At the appropriate time we transfer you to the airport. (B)
(B) Breakfast, (L) Lunch, (D) Dinner
Included:
All Transfers between the airport and your hotel
2 Nights accommodation in your selected hotel with breakfast
Isla del Sol / Inti Wata Excursion with box breakfast and lunch
Tiwanaku guided tour in Spanish and/or English
La Paz City tour with guide in Spanish and/or English
Not Included:
International and Domestic Flights
Airport Taxes
Excess Baggage Fees
Tips
National and International phone calls
Personal expenses, food and extras not mentioned in itinerary